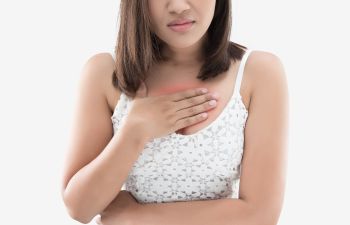 The painful burning sensation you experience after eating or drinking can make you miserable. Medication can prove helpful for relief, but there are lifestyle modifications you can make to reduce your symptoms naturally. Here are three ways you can reduce your acid reflux symptoms.
Eat Earlier in the Day
Eating a big meal right before bed can trigger acid reflux symptoms. Lying down after eating can make digestion harder. Larger meals can put greater pressure on weakened muscles in the esophagus.
Try to eat smaller meals earlier throughout the day, with your last meal three hours before bedtime. Stay upright for at least three hours during the day after eating. If you must lie down, prop your head with a pillow to raise your head above your stomach.
Choose Acid Reflux-Friendly Foods
Certain food can trigger and aggravate acid reflux symptoms. Common triggers to avoid can include caffeine, alcohol and fried foods. Acidic or spicy foods can also make you feel worse. Choose acid reflux-friendly foods like whole grains, lean meats, root vegetables and nuts or berries. Drink water, broths and herbal teas to help minimize your symptoms. If you are unsure what your triggers may be, keep a food diary and consult with a gastroenterologist.
Lose Excess Weight
Being overweight can put you at greater risk for acid reflux symptoms. Losing just 10% of your body weight can make a significant difference. Excess belly fat can put pressure on your abdomen and force stomach acid up into your esophagus. You may want to speak with an experienced medical professional to help you lose weight safely and effectively to reduce your symptoms. Wearing loose fitting clothing and engaging in regular daily exercise can help you get in shape and relieve the production of excess stomach acid.
Superior Care for Acid Reflux Symptoms in California
Making a few lifestyle modifications can minimize the effect of occasional acid reflux and heartburn. If you are experiencing symptoms on a frequent basis, you may need professional medical treatment in order to take back control. As a top gastroenterology specialist in Santa Monica, Dr. David P. Yamini can help you prevent and relieve your acid reflux symptoms. Each person receives personalized treatment plans to optimize health and well-being. Call to schedule an appointment today.
Posted on behalf of David P. Yamini, MD