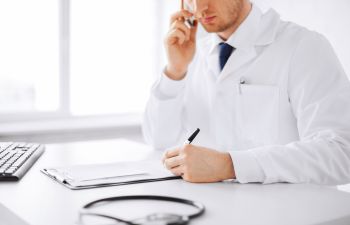 So much discussion surrounding a colonoscopy procedure revolves around the preparation required for it. The actual procedure is fairly routine and can save your life with regular colorectal cancer testing, or colonoscopies. However, there is very little discussion about what should happen after your colonoscopy.
After your colonoscopy, anything Dr. Yamini finds concerning, such as a tumor or large polyp will be sent to a lab to be checked for pre-cancer or cancer cells. You may experience a level of wooziness from the anesthetics. You may also have a level of gas because air is pumped into your bowel, which may cause temporary stomach cramps.
It's also important to focus on proper replenishment after your colonoscopy. During the preparation for the procedure you are dehydrating your body, so it's important to put vital fluids and electrolytes back into your system. Depending on your system you may be advised to eat sparingly in the hours following your procedure. It's important to start with soft and easily digestible foods and fluids that will not potentially irritate your colon.
Foods to Avoid After Your Colonoscopy
After your colonoscopy you should focus on drinking fluids and eating fluid-based foods to avoid dehydration. Be sure to avoid foods that are hard to digest such as greasy, spicy and high in fiber foods. Avoid carbonated drinks to limit gas in your system. Avoid alcoholic beverages, brown rice, corn, legumes and raw vegetables.
If you have additional questions about having a colonoscopy or would like to see Dr. Yamini, call our office today for an appointment. We look forward to seeing you.
Posted on behalf of David P. Yamini, MD