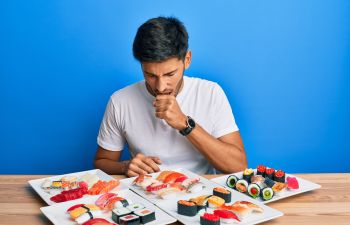 Do you feel discomfort or nausea after eating foods that you enjoy? This could indicate that you are suffering from food allergies or intolerance. Although both present with similar symptoms, they are not technically the same.
Food Allergies
Food allergies occur when the body identifies a perceived threat. These conditions are often life-threatening. Allergies to nuts, shellfish and gluten, are among the causes of anaphylaxis. Sufferers present with symptoms including:
Tongue swelling
Breathing problems
Tightness in the chest
Difficulty swallowing or speaking
Dizziness
Collapse
If you or someone you know suffers from any of these symptoms after eating, seek emergency care. Symptoms can worsen very quickly, so early intervention is often lifesaving.
Food Intolerance
Intolerance to foods can make you feel bloated and nauseous. In addition to the bloating, you may experience diarrhea and other uncomfortable symptoms. This condition often develops later in life, which explains sudden intolerance to favorite foods.
Lactose and gluten intolerance may explain your symptoms. However, sensitivity to foods often has no clear cause. You can determine which foods cause discomfort by recording what you have eaten before a flare-up and eliminating those foods from your diet.
Food Sensitivities
Food intolerance could stem from sensory issues. Autistic people can experience feelings of nausea before or after eating certain foods. Symptoms may be triggered due to the food's color, smell, or texture.
There is also a school of thought that many food intolerances are due, in part, to psychological associations. For example, if you have had a bad experience with a particular type of food, you may feel nauseous at the thought of eating it again.
Identifying Food Intolerance
Food allergies can put your life at risk, whereas food intolerance will dictate what you can comfortably eat. In either case, it is important to seek diagnosis and medical advice from a specialist. Dr. David Yamini can help you identify gastroenterological issues contributing to your negative experiences with food.
Call the offices of David P. Yamini today to book a consultation. Our Santa Monica offices offer a relaxed environment with friendly and compassionate staff.
Posted on behalf of David P. Yamini, MD