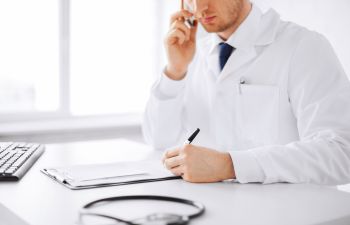 A colonoscopy is an exam that allows your doctor to see the inside of your large intestine (colon) and rectum. This exam is one of the most effective methods for doctors to find the source of unusual gastrointestinal symptoms, look for colon polyps, and detect colon cancer. Most people are encouraged to have a colonoscopy by age 50 as a preventative measure, and once every 5-10 years following.
While the exam itself is brief, and most patients are under general anesthesia during it, it is still a procedure that many people dread. Of course, patients do not see or feel anything during the procedure itself – it is the preparation for a colonoscopy that is quite unpleasant.
Colonoscopy prep is crucial because the colon needs to be empty and clear of waste. For this to occur, you will need to stay close to a bathroom for several hours the day prior to your procedure. To prepare for your colonoscopy prep, here's what you need to know:
You must take some kind of laxative to empty your bowels completely. Most of the time, you will be told to mix an over-the-counter (OTC) laxative product into a certain amount of liquid and consume it within a few hours.
You will probably want very soft toilet paper or moist wipes. After several trips to the bathroom, scratchy toilet paper may become too harsh.
Vaseline or diaper cream can be applied to your rectum to prevent skin irritation from diarrhea and frequent wiping.
You will only be allowed to consume a liquid diet the entire day before your colonoscopy. You can drink any clear liquids to help you stay hydrated while you are "emptying out".
You must avoid all red-colored beverages. Red dye stains your intestines, making it difficult for your doctor to get a clear view of your large intestine. You can mix a laxative in with sports drinks, but avoid red-colored options.
Set up shop in the bathroom. Once you get a few doses into your laxative, you will be in the bathroom more than you will be out of it. Bring a book, TV, laptop, tablet, or other devices that can help you pass the time.
Colonoscopy prep is inconvenient and unpleasant, there's just no way around it. However, once your procedure is complete, you will be able to get back to a normal diet and bathroom routine. If your colonoscopy is successful, you have 10 years to enjoy before the next one!
Posted on behalf of David P. Yamini, MD