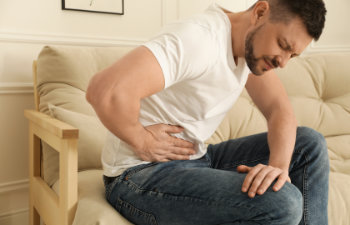 Many Americans experience diarrhea on occasion. Usually, symptoms will resolve in around two days. However, if you find you are passing stools that are loose and watery with frequency, or for more than a week, this could indicate an underlying issue. Other symptoms include stomach bloating, feeling an urgent need to use the bathroom and nausea.
Mild cases of diarrhea can usually be treated at home. Lost fluids are replaced by consuming caffeine-free soda, sports drinks or tea and honey. Consume liquids in small amounts throughout the day, instead of only with meals. The rectum may experience irritation due to the frequency of bowl movements. Resolve this by taking a warm bath and gently patting the affected area dry with a clean towel. Petroleum jelly or over-the-counter hemorrhoid cream will provide additional relief from discomfort.
When to Be Concerned About Diarrhea
Diarrhea is usually the result of a viral infection or contact with bacteria. Rich or spicy food can easily upset the gut, or you could develop an allergic reaction to certain foodstuffs. Some people experience loose bowl movement after running. However, conditions like irritable bowel syndrome or diseases like Crohn's or ulcerative colitis could be the root cause. Frequent or extended bouts of diarrhea are indicative of some cancers.
Contact your doctor if you notice blood or mucus in your stool, or if your bowel movements are black with a tarry consistency. A high fever that lasts more than a day merits further investigation, especially if you are also experiencing extreme pain from the rectum or stomach. Seek medical advice if you experience diarrhea after traveling to a foreign country. Be alert for signs of dehydration, which include passing small amounts of dark urine, headaches and confusion.
Find the Cause with Dr. David P. Yamini
Ongoing or frequent bouts of diarrhea are detrimental to your quality of life. It is a painful and embarrassing problem that affects your ability to meet your commitments. In a worst-case scenario, loose stools may indicate a more serious underlying problem. Find relief with the expertise of highly qualified gastroenterologist Dr. David P. Yamini. From his offices in Beverly Hills and Santa Monica, he is ready to help California residents regain control of their gut health.
Contact Dr. Yamini today for a consultation on your GI problems and get relief.
Posted on behalf of David P. Yamini, MD