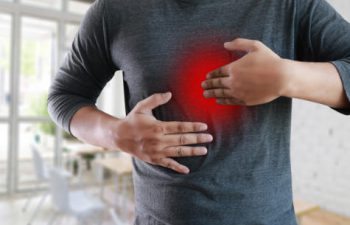 While the holidays are supposed to be jolly and bright, they can actually have the opposite affect on people. The holidays can be stressful. The pressures of gift getting, in-laws, and work functions can put a great deal of stress, anxiety, and depression on you this month.
Did you know that there is a connection between your anxiety and acid reflux? According to some experts, there is a brain chemical called cholecystokinin (CCD) that is linked to panic and gastrointestinal disorders. Verywellmind states that "while anxiety is not listed as a cause of GERD (Gastroesophageal reflux disease), some studies have shown that the incidence of anxiety in people with GERD is higher than for those in the general population."
They also feel that an additional possibility for the connection between anxiety and acid reflux could be attributed to the behaviors people with anxiety usually engage in. Behaviors such as smoking, drinking alcohol or eating fatty or fried foods may trigger acid reflux. They also say "the reverse may be true as your GERD symptoms, such as chest pain and trouble swallowing, can be worrisome and increase your anxiety or trigger a panic attack."
Verywell concludes with noting, "if you suspect you have anxiety or GERD or both, be sure to see your healthcare professional for a proper diagnosis and treatment plan."
Don't allow your acid reflux to ruin your holiday plans. If you have frequent episodes of acid reflux after eating or drinking, Dr. Yamini is a gastroenterologist who can diagnose, prevent and treat your acid reflux and related conditions. If you are experiencing the symptoms of acid indigestion and want to find relief, call Dr. Yamini today.
Posted on behalf of David P. Yamini, MD