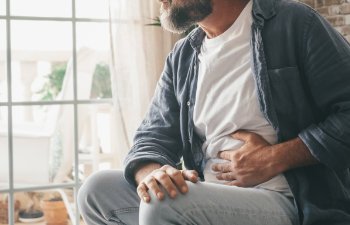 Bloating is a common condition that most people have experienced at some point in their lives. It is characterized by a feeling of fullness and tightness in the abdomen caused by excess gas in the digestive system. While bloating is not usually a serious medical condition, it can be uncomfortable and even painful, putting the brakes on your summer plans.
David P Yamini, MD is a Santa Monica gastroenterologist with the knowledge, experience and skills to help you identify the causes of your bloating and create a plan to overcome it. Here are some of the most frequent causes of bloating that can ruin your summer.
Overeating
One of the most common causes of bloating is overeating. When you consume large amounts of food, your stomach must work harder to digest everything. This can lead to excess gas production, which can cause bloating. To avoid this, try eating smaller, more frequent meals throughout the day instead of three large meals.
Swallowing Air
Another common cause of bloating is swallowing air. This can happen when you eat too quickly, drink carbonated beverages or chew gum. When you swallow air, it gets trapped in your digestive system and can cause bloating. To prevent this, try to eat slowly and avoid carbonated beverages and gum.
Constipation
Constipation can also cause bloating. When stool builds up in your colon, it can cause your abdomen to become distended and uncomfortable. Drinking plenty of water and eating high-fiber foods can help prevent constipation and reduce bloating.
Irritable Bowel Syndrome (IBS)
IBS is a chronic condition that affects the large intestine. It can cause various symptoms, including bloating, abdominal pain and changes in bowel movements. While the exact cause of IBS is unknown, certain foods and stress can trigger symptoms. If you suspect you have IBS, talk to Dr. Yamini about treatment options.
Food Intolerances
Food intolerances, such as lactose intolerance or gluten intolerance, can cause bloating. When your body cannot digest certain foods, it can produce excess gas and bloating. If you suspect you have a food intolerance, try eliminating the food from your diet and see if your symptoms improve.
Menstrual Cycle
For women, bloating can also be a typical menstrual cycle symptom. Hormonal changes can cause water retention, which can lead to bloating. Eating a healthy diet and staying hydrated can help alleviate bloating during your menstrual cycle.
Get Professional Treatment for Bloating
Bloating is a common condition that various factors can cause. You can reduce your risk of bloating by making simple lifestyle changes, such as eating smaller meals, avoiding carbonated beverages and gum, and drinking plenty of water. If your symptoms persist, Dr. Yamini can perform a complete workup and examination to determine the underlying cause of persistent and troublesome bloating and then create a tailored treatment plan to bring you significant relief.
Don't let bloating ruin your summertime plans. Contact David P Yamini, MD, in Santa Monica and Beverly Hills to get professional treatment for bloating.
Posted on behalf of David P. Yamini, MD