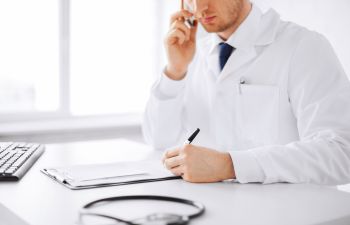 Surpassed only by our brain, the liver has more functions than nearly any other organ in our body. One of those more than 500 functions is to filter blood, which it does about 15 times per hour. When this largest of internal organs starts to have problems, it's easy to be confused about whether a person has Liver Disease or Cirrhosis. They are not the same. Cirrhosis is the late-stage scarring of the liver as a result of one of the more than 100 liver diseases. Liver Disease is one of the conditions that may lead to Cirrhosis.
Signs of Liver Disease
Because the liver affects a variety of the body's systems, there are a wide range of indicators that it may be ailing:
Chronic or persistent fatigue
Swelling in legs and ankles
Pain in upper right abdomen
Abdominal swelling – sometimes accompanied by difficulty breathing
Red palms or itchy skin
Jaundice – yellowing of skin and eyes
Nausea, vomiting, diarrhea or lack of appetite
Tendency to bruise easily
Who Is at Risk?
There are several groups which have a higher risk of developing Liver Disease. If you fall into one or more of the following groups, and have any of the symptoms listed above, contact our gastroenterologists to schedule an appointment to discuss your condition:
Those with a family history of Liver Disease
Type II Diabetics
Obese individuals
People exposed to other people's blood or body fluids – through tattoos, piercings, shared needles and syringes or unprotected sex
Heavy alcohol users
Individuals exposed to certain chemicals and toxins
Early Diagnosis is Best
Because our liver is capable of repairing itself, it is vitally important that disease is diagnosed early, before irreparable damage is done. A variety of tests may be run to determine the type and severity of the condition. It is also important to learn the cause of the Liver Disease, in case there are steps that may be taken to prevent further harm and to encourage natural regeneration. If Liver Disease is caught early and treated properly, there is a chance for the liver to recover. However, left too long, damage may lead to scar tissue, which in turn may lead to Cirrhosis, which is generally not reversible.
Contact Dr. David Yamini to learn more or to schedule a consultation today.
Posted on behalf of David P. Yamini, MD