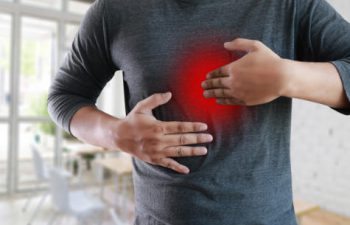 When people think of acid reflux, their first thought is of crying babies who spit up a lot. However, acid reflux is a common gastroenterology condition that makes eating and drinking even the most innocent foods and drinks a gamble for thousands of adults. This medial issue is known as a "silent predator" because, unlike in babies, there are no outward symptoms. People with acid reflux suffer from acidic stomach contents traveling back into the esophagus, which is commonly referred to as acid indigestion. For sufferers, it is often hard to enjoy regular mealtimes, as well as social situations.
Symptoms of acid reflux include:
An uncomfortable burning feeling in the chest, often known as heartburn
A sour or bitter taste at the back of your mouth
Regurgitation of food or liquid from your stomach into your mouth
Chronic cough
Difficulty swallowing
The body is an intricate machine with thousands of working parts – many of which you do not even know that you have. One such feature is the lower esophageal sphincter (LES). The LES is a circular band of muscle at the end of the esophagus that, when working correctly, relaxes and opens when you swallow. Then, it tightens and closes again afterward. For those with acid reflux, the LES does not tighten or close properly. This allows acidic digestive juices and other contents from your stomach to rise into the esophagus. The acidity of the contents is what causes the burning sensation that is so common with acid reflux.
Treatment options for acid reflux will be determined by the severity of your acid reflux and the causes behind the condition. Obesity is a significant contributor to acid reflux, so losing weight may be the first necessary treatment step. Many people find that they have "triggers," which set off acid reflux. Keeping a food journal can help you identify certain foods or beverages that cause an onset of symptoms. It is also important to note that acid reflux has similar symptoms to other gastrointestinal conditions, so it is vital that you pursue a diagnosis to determine the direct cause of your symptoms.
If you are experiencing symptoms of acid reflux and want to find relief from your discomfort, please contact the offices of Dr. Yamini today.
Posted on behalf of David P. Yamini, MD