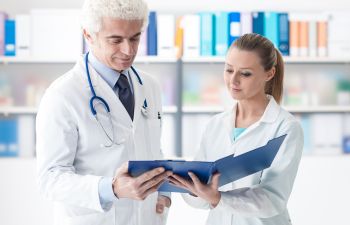 Colon cancer, also known as colorectal cancer, is a cancer that starts in the colon (large intestine) or rectum. These organs are in the lower portion of the digestive system and are essential to the body performing as it was designed. These portions of the gastrointestinal tract are responsible for absorbing liquid and producing the solid waste that is dispelled from the body as stools. Colon cancer occurs when malignant cells develop around the rectum or inner lining of the colon.
The American Cancer Society estimates that 1 in 23 men and 1 in 25 women will develop colorectal cancer during their lifetime. Knowing the signs and symptoms of colon cancer can help you seek and receive interventional medical treatment that can save your life.
One of the most difficult things about diagnosing colon cancer is that it may not present with any noticeable symptoms in the early stages. However, if you do experience symptoms during the early stages, they may include:
Constipation
Changes in stool shape
Changes in stool color
Diarrhea
Excessive gas
Blood in the stool
Bleeding from the rectum
Abdominal cramping and pain
If any of these symptoms occur, especially ones that are out of the ordinary, it is vital that you make an appointment with your doctor to discuss screening for colon cancer.
Signs and symptoms that are more noticeable in the late stages of colon cancer include:
Excessive fatigue
Unexplained weakness
Unexplained weight loss
A feeling that your bowels will not empty completely
Cancer is caused by genetic mutations, either inherited or acquired. These mutations increase a person's risk of developing cancers, such as colon cancer. Some mutations cause abnormal cells to accumulate in the lining of the colon, known as polyps. The removal of these polyps can be used as a preventive measure because untreated polyps can become cancerous.
If you would like to pursue regular screening for colon cancer or you have concerning signs or symptoms that need to be evaluated, contact the offices of Dr. David Yamini today.
Posted on behalf of David P. Yamini, MD