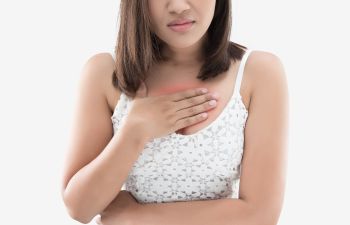 Barrett's esophagus is when the lining of the esophagus changes because of acid reflux. This condition is generally a life-long condition, and it does have the possibility of turning into esophageal cancer. Therefore, it's important to understand what Barrett's esophagus is and how you should care for it.
Barrett's Esophagus
Barrett's esophagus is caused by GERD, gastroesophageal reflux disease. Acid reflux is a common condition familiarly known as heartburn. The burning sensation in your lower chest happens when stomach acid backs up into your esophagus. When a person suffers frequent acid reflux more than twice a week, it is considered GERD. Ongoing GERD can lead to Barrett's Esophagus. In addition, Barrett's esophagus can lead to esophageal cancer.
Keep an Eye on Your GERD
We've all probably experienced heartburn, or acid reflux, at some point. It can be brought on by coffee, spicy food, citrus fruits, tomatoes, onions, cheese, peppermint and other foods. Typically, foods that are high in fat or acid are the culprits. Eating a very large meal can cause acid reflux, as can certain medications, including aspirin and ibuprofen.
If you experience frequent heartburn, speak to your doctor about it. If left untreated, the acid moving up into your esophagus can bring on changes in the cells of the throat. The lining of the esophagus changes from pink to red and thickens from the damage, causing the tissues lining the esophagus to become more like the tissues of the intestines.
Symptoms include heartburn and even regurgitation and sometimes trouble swallowing. In addition, there may be accompanying chest pain. However, some people develop Barrett's without ever noticing any symptoms.
Endoscopy is Used to Observe the Lower Esophagus
Barrett's requires regular observation through endoscopy. The doctor will use a long flexible tube with a light and a camera to look down the throat into the lower esophagus every few years. Changes such as polyps may be observed and are removed and biopsied.
Does Barrett's Esophagus Mean Cancer?
While it is true that Barrett's may lead to esophageal cancer, it's by no means certain. The risk remains very low, 1% to13%, in a lifetime, if the endoscopies and the acid-reducing medication are continued.
Risk Factors of Barrett's Esophagus
Risk factors of Barrett's esophagus include:
Family history
Being Caucasian
Being male
Being overweight
History of frequent acid reflux
Smoking
Dr. David P. Yamini, MD, is a gastroenterologist practicing in Santa Monica and Beverly Hills. He is professionally trained and experienced in treating GERD and Barrett's Esophagus. Contact Dr. Yamini today to discuss your ongoing heartburn to ensure it isn't something more serious.
Posted on behalf of David P. Yamini, MD